Noord Natie Ventspils Terminals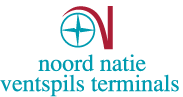 Cargoes:
general cargo;
dry bulk cargo;
containerised cargo;
Ro-Ro;
Noord Natie Ventspils Terminals Co., Ltd. (NNVT) is a multifunctional cargo handling centre, the newest Ro-Ro terminal for container and general cargo handling in the Baltic Sea region, with a total area of 28.4 hectares. Provided services:
cargo storage and sorting in the field of containers, Ro-Ro, trailers, reefer containers, bulky and heavy (including non-standard) cargo;
intermodal solutions;
forwarding.
The advantages of the terminal are experienced work force, appropriate and secured infrastructure, flexible and conveniently designed offers for the client, as well as beneficial geographical location: The Freeport of Ventspils, Eastern coast of the Baltic sea, at the crossroads of the main West - East trade routes.
There are 120 reefer containers processing connection points in the company (it is possible to increase their amount up to 250). Lifting force of the hoist is 100 tons.
For providing a fast service there are customs and other facilities in the territory of the NNVT.
Handling capacity

1,500,000 tons annually

150,000 TEU annually
Cargo storage

open storage areas: 175,000 m2;
storage areas: 7,300 m2;
freezers: 14,700 m2.

Cargo deadweight DWT

Panamax type vessels

5 berths (the longest berth - 299 m, depth - 14.2 m)
Railway

It's possible to simultaneously:

store 233 railroad cars;
process 126 cars by providing loading/unloading on multiple tracks.
Contacts:
Address: 7 Plosta Street, Ventspils, LV-3601, Latvia
Phone: (+371) 63607300
Fax: (+371) 63607301
E-mail: [email protected]
www.nnvt.lv