Industrial Sites and Premises

We offer plots of land and industrial premises prepared for lease.
Since the middle of the last decade, purposeful work on the development of industrial areas was commenced. Freeport of Ventspils Authority has built production spaces in the area exceeding 40,000 m², and this area has become home to several tens of Latvian and foreign producing companies. More than 1,700 new jobs have been created over those years.
Contact us, if you want to find the best solution of land and premises for your company in any of the seven industrial areas of Ventspils.
Industrial Areas of Ventspils
(Click on the chosen area for detailed information)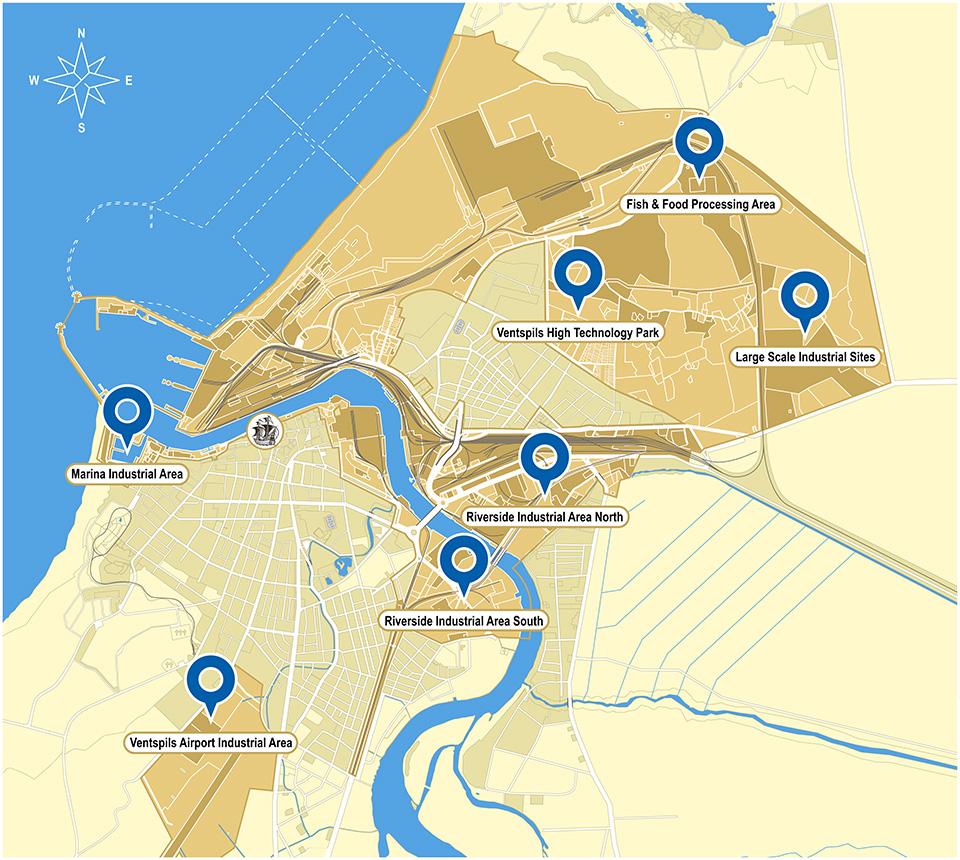 Offer of New Industrial Buildings

Area of premises: 7300 m2

Area of the land lot: 1,7 ha

Free height in the production area: 6m

Possible load on bottom in production area: 4t/m²
Lease Of Territories For Commencement Of Industrial Production
Alongside the current industrial territories, space exceeding 500 hectares is intended for the implementation of new industrial projects in the Port of Ventspils. Prepared plots of land of space from 1 to 100 hectares may be used for the commencement of production in the industrial areas with the option of expansion, if necessary.
We offer long-term cooperation for the development of industrial objects — Land Lease Contracts for the period up to 45 years with the option of prolongation for equal period. Lease payment of the territories equipped for industrial activity is in the amount of 0.25–0.5% of the cadastral value of the land. Upon lease of industrial areas, agreement on creation of additional infrastructure required for the company's development is possible. Land and industrial buildings may be purchased for ownership.
Businesses currently in Freeport of Ventspils
Sales manager of the ARBO Windows Vjačeslavs Kolosovs:
– We have chosen Ventspils as our home. Wonderful infrastructure of the Ventspils city, a nearby port, ferry traffic, availability of labor, as well as support of the Ventspils Freeport and the provided offices for production make our work much easier.
Member of the Board of Ventspils Welding Plant Jevgēnijs Lapkovskis:
– It is much easier to work in Ventspils than in Riga – less red tape and cooperation with the municipality make Ventspils attractive for us. One of the factors making the city unique is the ability to combine tourism and industry. The North Kurzeme Vocational Education Competence Centre offers training programs that are directly related to the company's field of activity, e.g. Metalworking, Electronics, Mechanical Engineering Technology and others.