Industrial Sites and Premises

We offer plots of land and industrial premises prepared for lease.
Since the middle of the last decade, purposeful work on the development of industrial areas was commenced. Freeport of Ventspils Authority has built production spaces in the area exceeding 40,000 m², and this area has become home to several tens of Latvian and foreign producing companies. More than 1,700 new jobs have been created over those years.
Contact us, if you want to find the best solution of land and premises for your company in any of the seven industrial areas of Ventspils.
Industrial Areas of Ventspils
(Click on the chosen area for detailed information)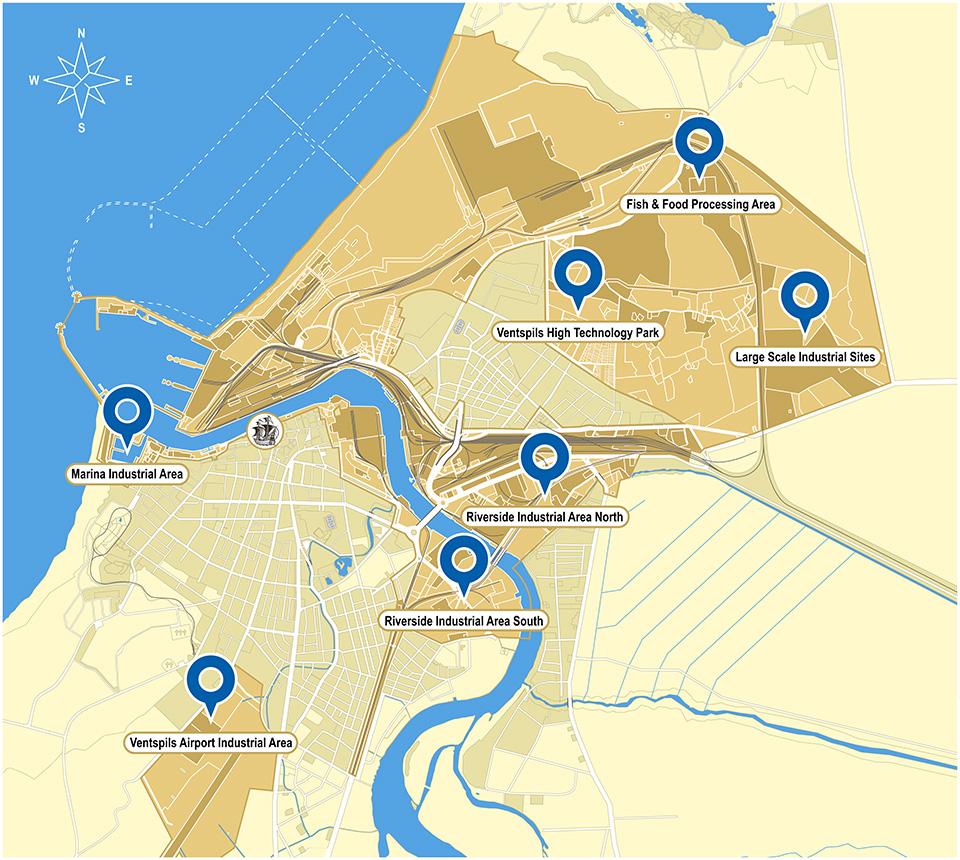 Offer of New Industrial Buildings
Lease Of Territories For Commencement Of Industrial Production
Alongside the current industrial territories, space exceeding 500 hectares is intended for the implementation of new industrial projects in the Port of Ventspils. Prepared plots of land of space from 1 to 100 hectares may be used for the commencement of production in the industrial areas with the option of expansion, if necessary.
We offer long-term cooperation for the development of industrial objects — Land Lease Contracts for the period up to 45 years with the option of prolongation for equal period. Lease payment of the territories equipped for industrial activity is in the amount of 0.25–0.5% of the cadastral value of the land. Upon lease of industrial areas, agreement on creation of additional infrastructure required for the company's development is possible. Land and industrial buildings may be purchased for ownership.
Businesses currently in Freeport of Ventspils
Egils Staris, Chair of Board, SIA Bio-Venta:
– Location within the territory of Ventspils Free Port and the available infrastructure are some of the competitive advantages of SIA Bio-Venta, if compared to similar producers.
Selecting the correct location was essential for realisation of the biodiesel plant project — SIA Bio-Venta is in the middle of material flow from the East to Amsterdam–Rotterdam–Antwerp (ARA) ports now and thus closer to our target markets in the Baltics and Scandinavia than other biodiesel producers from the Western Europe. Access to port berths and rail and road access ensure one of the major elements in biodiesel production business, i.e. flexible logistics of materials and production.
Aleksejs Vasiljevs, Procurator at AS Wasserkabel Baltic:
– Ventspils is a friendly city for our business and very beneficial in terms of traffic where everything is located together – port, railway, motorway. Upon starting the business, we were granted tax incentives, which is very important for new companies, and we also received fast and qualitative assistance at various municipal institutions of Ventspils City.
Wasserkabel is an energy-efficient and convenient heating and cooling system that is very popular also outside the Baltic States. With our customer base expanding, we are planning to use transportation services of the Port of Ventspils in the future as well, delivering our products to customers around the world.