Contacts
Feel free to contact me for more information!
Future Development of the Freeport
The Port of Ventspils is committed to the harmonious and sustainable development of the region. One of the key areas is the development of a renewable energy production and service community, which includes servicing wind farms, solar energy production, participation in the future hydrogen economy and involvement in the implementation of the European Green Deal.
OFFSHORE WIND PARKS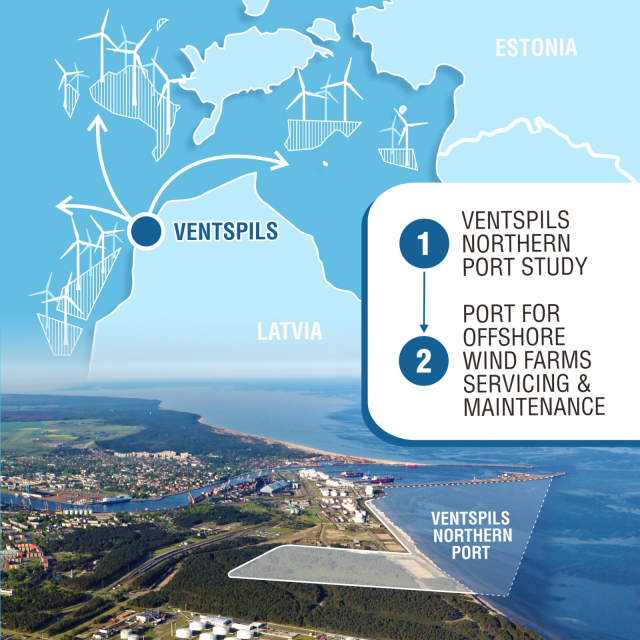 The Baltic Sea Spatial Plan has identified several areas for the construction of offshore wind farms off the coasts of Latvia and Estonia. The joint Latvian-Estonian offshore wind project ELWIND in the eastern Baltic Sea is scheduled to start operations in 2030. Work on ELWIND's technical documentation will start in 2025 and construction in 2028. In other areas, work is also underway to develop projects.
The offshore wind farms need a land-based maintenance base - the Port of Ventspils is potentially the most favourable and closest location for servicing these wind farms. Therefore, in order to provide the specific port infrastructure requirements for offshore wind farms, the Freeport of Ventspils Authority conducts a research "Assessment of the Possibilities of the Port of Ventspils for Servicing Offshore Wind Farms and Related Infrastructure": research on the optimal solution for servicing offshore wind farms and related infrastructure (e.g. "energy island") in the Port of Ventspils, including assessment of the existing infrastructure and its possibilities, as well as modelling of a new terminal in the Northern Port of Ventspils.
SOLAR PARKS
The Freeport of Ventspils Authority has identified a number of land lots with a total area of ~240 ha for the development of non-self-consumption solar parks.
In 2022, contracts were signed for the construction of four solar parks with a total area of ~ 40 ha, while ~ 150 ha are reserved for the next lease round and 50 ha are privately initiated.
Leased land:
Krasta iela 1, Ventspils 127,857 m2;
Mauru ceļš 27, Ventspils 107,300 m2;
Mauru ceļš 40, Ventspils 114,642 m2;
Mauru ceļš 56, Ventspils 55,481 m2.
The development of solar parks requires a development right: minimum of 10 years, maximum of 45 years.
"GREEN HYDROGEN"

The production of "green" hydrogen and further e-methanol is foreseen as the energy of the future on the path to fossil-free energy and CO2 emission reductions. The Port of Ventspils as an infrastructure facility sees huge future prospects in fitting into the hydrogen ecosystem and adapting to the future development of the hydrogen economy, including by exporting the hydrogen produced through the Port of Ventspils.
In 2022, Freeport of Ventspils Authority joined the Latvian Hydrogen Alliance and signed a Memorandum of Understanding with more than 20 industry, science and ministry representatives to promote a strong and unified hydrogen ecosystem and technology development in Latvia.