Ventspils Commercial Port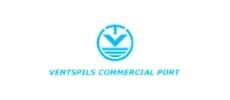 Cargoes:
iron ore;
raw sugar;
peat;
ferrous metals;
coal;
Ventspils Commercial Port specialises in the transhipment of various general and bulk cargoes: coal, iron ore, peat, grain, raw sugar, pig iron, sulphur, chip, wood pellets, wood chips, metal and iron alloys, non-ferrous metals, timber, food cargoes, containers, etc. It is possible to simultaneously store up to 500,000 tonnes of cargo in the terminal's spacious outdoor storages (120,000 m2) and enclosed storages (52,000 m2).
The terminal can handle PANAMAX vessels with a carrying capacity of 82,000 tonnes, max draft of 14,1 m and length of 240 m. The total length of the seven berths is 1,500 metres, and it is possible to simultaneously handle five vessels. The capacity of bulk cargo handling is up to 42,000 tonnes per 24 hours.
Handling capacity

Bulk cargo – 42,000 t/daily
Cargo storage

120,000 m2 in open warehouses;
52,000 m2 in covered warehouses;
Maximum storage capacity – 500,000 t.

Cargo deadweight DWT

DWT 82,000;
The total length of the eight berths is 1,500 m;
Five ships can be handled simultaneously.

Railway
Up to 3,400 wagons per day
Contacts:
Adress: 22 Dzintaru Street, Ventspils, LV-3602, Latvia
Phone: (+371) 63668706
Fax: (+371) 63668860
E-mail:
[email protected]