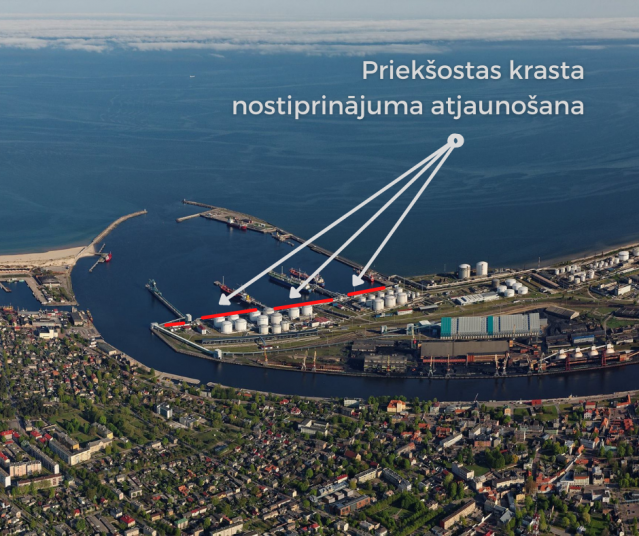 The reconstruction of the 740-metre long harbour embankment from the North Pier to the Baltic Coal Terminal is in full swing, and the total project costs amount to nearly €2 million.
Due to intensive use and natural conditions, the navigation infrastructure is ageing and may eventually no longer be able to adequately protect the harbour from the damaging effects of wind and waves. The harborage area of the Freeport of Ventspils is most exposed to the adverse impact of external factors and weather conditions; and it is the area of the port, which is used by all ships entering the port.
Since 2018, the Freeport of Ventspils Authority implements a complex renovation of the harbour infrastructure – the South Pier, the embankment at the South Pier and the North Pier have already been renovated. At last, it is the turn of the embankment of the avant-port.
The Authority has concluded a construction contract with AS BMGS for a total of EUR 1 606 500.00, excluding VAT. Construction supervision on the project is carried out by SIA Isliena V, while author supervision – by SIA InĹľenieru birojs" Kurbada tilti".
Construction works are scheduled to be completed in early 2023, which will mark the end of the entire EUR 18 million project aimed at the reconstruction of the waterside structures of the Freeport of Ventspils.
Project No. 6.1.1.0/17/I/003 Reconstruction and Renovation of Waterside Structures at the Freeport of Ventspils is implemented within the framework of activity programme Growth and Employment, and its specific support objective 6.1.1. To increase the security level of large ports and improve the transport network mobility. Total eligible costs of the project amount to EUR 18 142 562.50, including the planned EU Cohesion Fund co-funding in the amount of 85%, EUR 15 421 178.12.