Ventspils Business Support centre, founded with the financial support of Ventspils municipality and with the help of Ventspils High Technology Park, whose one of the founders is Ventspils Freeport Authority, is running for almost a year. The Business Support Centre has become a singular bridge between different instances facilitating entrepreneurship. A bridge for beginners to the business world. The first birds have left the nest
The entrepreneurs receive support in several instances: Ventspils Freeport Authority offers industrial premises and infrastructure to create production facilities, the unit of Latvian Chamber of Commerce and Industry offers consultations, training, seminars, defence of small and medium-sized enterprises interests, help in finding partners and outlets, Ventspils business incubator of The Investment and Development Agency of Latvia (LIAA) offers support in mentoring, grants and establishment of an office. There are other instances such as Ventspils High Technology Park, Altum, Green Tech Cluster, Ventspils Digital Centre, and Ventspils University of Applied Sciences Lifelong Learning Centre. Ventspils Business Support Centre (BSC) unites all of these instances, becoming a bridge where an entrepreneur-beginner or just the author of a new business idea can easily walk across from one instance to another, considerably relieving and accelerating the beginning of the process. Ilze Valdmane is leading the Business Support Centre and her team consists of experienced Salvis Roga who is leading the Green Tech Cluster and a project manager Jānis Kūldbārdis.
In less than a year (BSC was established last September and actively started operating last February) already four entrepreneurs that begun their journey into the business world in BSC, now are continually developing their businesses in Business Incubator of The Investment and Development Agency of Latvia (LIAA), says the BSC director Inga Valdmane. It is very important for new entrepreneurs in BSC to receive not only consultations and important information but also to be able to visit seminars and use the co-working rooms charge free. If separate premises for offices are needed they are offered for rent in Pils iela 17 or in the building of Ventspils University of applied sciences with various subsidies from the municipality, adds Valdmane.
The co-working rooms
Entrepreneur Didzis Videmanis, the owner of the web and mobile application design enterprise, due to BSC offered opportunity can now call himself one of the Ventspils inhabitants. Since May he on regular basis is using the co-working premises in BSC. It is a great opportunity for him to continue his work in a new environment. The entrepreneur says that: "It would not be easy to find premises for office when first arriving in Ventspils – at first one would wish to understand the overall situation of office rent prices in Ventspils." When arriving in Ventspils Didzis started looking for rental premises because all the time while working in Riga he was renting an office. The possibility to use the co-working premises in BSC free of charge was a pleasant surprise for him. Didzis also spots other opportunities provided by BSC – seminars, professional consultations and other interesting events encouraging business.
For more than ten years Didzis Videmanis was living and working in Riga. Approximately two years ago he founded his micro-enterprise Vide Man. When two daughters were born into the family, they began to think about changing their place of residence. While trying to find an appropriate place for living, the family visited many places in Latvia until they realised that our city is the best choice. In May this year, Videmaņi completely moved to Ventspils and bought a real estate that is now being renovated. The family was offered two places in kindergarten not far from home for their daughters "which is very positive comparing to Riga," Didzis says.
Priority aid in ICT
One of the main goals of Ventspils BSC is to favour developments of the information and communication technologies by attracting new specialists and businesses of this field. The municipality is supporting the ICT businesses by providing subsidized rented premises for office – for the first year, the reduction of price is 100 %, as well as by recruiting staff and by making connections. "We do everything to ease the life of specialist and their families that are moving to Ventspils," explains the director of BSC.
With the support of Ventspils BSC, ten businesses have started/established their working activities (most of them in the field of ICT), and two more is receiving help to settle in our city. BSC is also helping to find applicants for the SIA Telemarket sales group manager position. It is an international call centre employing more than 200 employees across all Latvia. It is planned to establish Telemarket call centre anew in Ventspils. Recently in BSC, a new ICT business was established which already has found its first customers and is working with such well-known trade brands as Bosch and Makita.
Ambitious plans for the future
BSC plans for the future are even more ambitious. During next year via project Baltic Games Industry in collaboration with Ventspils High Technology Park, it is planned to begin the establishment of a Business Incubator in Ventspils for Latvian video games, which will support video game makers by training them specific skills, such as 3D modeling, scenario making, and others. BSC will provide the opportunity to visit international seminars and conferences and will help for games to enter the market and attract the investors. Currently, Finland, Sweden, and Germany are prominent in the video game industry. Ventspils BSC has set an ambitious goal – to make our city and region much more noticeable in the field of game developing in Europe, says Valdmane, allowing the possibility that soon some of the international game developers may appear in Ventspils.
Place of business coordination
1st Deputy Chairman of Ventspils City Council on Infrastructure Affairs
Ventspils municipality was actively involved in the development of Business Support Centre because we were not satisfied with the work of business incubator which was established two years ago by The Investment and Development Agency of Latvia (LIAA). So far, unfortunately, LIAA business incubator has only been a place for grant assigning, besides a place with bureaucratic and slow procedures. In the previous period of planning EU funds, when business incubator was operated by Ventspils High Technology Park (VHTP), it was a place where entrepreneurs were able to receive consultations and financial support for the development of their business idea as well as rent office premises with preferential conditions. At that time Business Incubator facilitated the expansion of Ventspils entrepreneurs' cooperation so that one company's growth would help others. To not worsen the business environment in the city, an idea emerged to establish Business Support Centre as the first stop for future entrepreneur coming to our city.
The municipality made the necessary investments to equip the premises and VHTP provided needed professionals. I believe that Ilze Valdmane and her team has done a great job in order for anyone to feel welcome and to receive the needed support in BSC. In BSC there is a so-called co-working area, where young entrepreneurs can cooperate and develop their ideas. The condition from the municipality is – the support, first of all, is given to businesses in the field of information and communication technologies, but no one is rejected. Due to work of BSC, at least five new ICT business have begun their work in the city. Our strategy is aimed at developing ICT industry, in which we see our future not only for the city but also for whole Latvia. I am certain that because of the work of BSC, the Business Incubator will also be the acquirer – BSC will provide new entrepreneurs to Business Incubator who will be able to claim for support of EU funds.
At the moment the municipality has undertaken the funding of Business Support Centre but we hope that in the future Centre will be able to provide the needed funding by participating in projects and providing services.
Starting point for entrepreneurs
Igors Udodovs, Deputy Executive Officer of the Freeport of Ventspils
One of Ventspils Freeport's main tasks is to attract investors to the realisation of new projects in Ventspils, but this process is neither fast nor easy. Our experience has proven multiple times that systematic support mechanism in the early stages of entrepreneurship is an important part of succeeding. In the very beginning, an investor does not have an office nor employees or a registered office. In the planning, the investor has no time or recourses to address the situation. And this is the case where the Business Support Centre is of great importance. Modern office, possibility to register the enterprise and a consultation of practical nature problems not only fundamentally relieves beginning of the process but also, which is significant, creates a positive impression on the business environment in the city. The establishment of BSC and willingness to do one's job by the world's best examples is making the future seem very encouraging. We believe that this will be a very effective starting point for large and small enterprises.
We will help to take the first step
Ilze Valdmane, Head of Ventspils Business Support Centre:
My observation of the first half-year while working as a head of BSC shows that any author with a cherished idea that has not been implemented can fulfill it with our help. It is perfectly possible to go from an idea to an actual establishment of an enterprise by putting together the available support options and the help of professionals. However, one has to be brave and must not fear to take the first step. BSC will help to take the next steps and will show the right direction and possible support mechanisms. Sometimes only a small step is needed to actually begin the work of an enterprise. For example, an entrepreneur was looking for a help to name his business, turned out that it was the only obstacle keeping him from the establishment of the business. We helped to fix this problem in fifteen minutes. Another entrepreneur, while constantly working in BSC co-working rooms and using offered consultations, managed to establish two new ICT enterprises and found employees. Another entrepreneur successfully evolves his business by using the co-working rooms on a daily basis even though he is living in this city only for a short period. This is the advantage of our commune where people can get to know each other, find partners and evolve their business together.
FOR REFERENCE
Co-working rooms, which are intended for co-creation, lately has become a very popular service all around the world. These rooms are premises that anyone can use as their office: for any type of work and to organise meetings and meet clients. Co-working rooms replace traditional office and because of that self-employed people does not need to rent an office.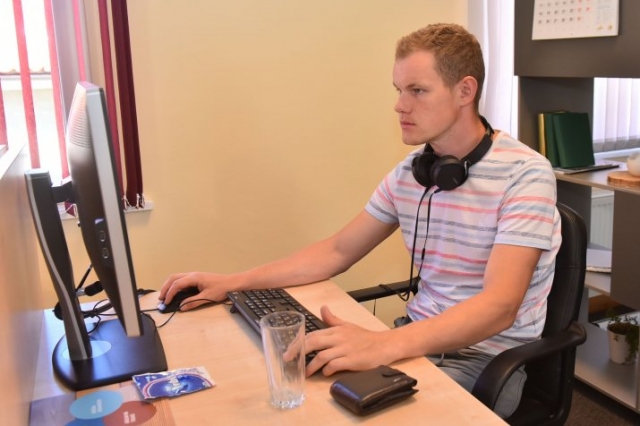 Didzis Videmanis, after moving to Ventspils, is evolving his ICT business by actively using the opportunities provided by BSC.