The Administration of the Freeport of Ventspils has signed agreement with SIA "Aquatoria V" for the acquisition of construction rights on the land plot in Ventspils, Talsu street 200. The company plans to build a new, modern fish compound feed production and processing plant in this territory.
The former fur farming territory in Ventspils, Talsu street 200 with the area of 7,3 hectares is one of the industrial zones of the Freeport of Ventspils. In 2018 the Administration of the Freeport of Ventspils completed improvement of the degraded territory and its adaptation to new industrial projects – old slum buildings were demolished, new access roads and car parking lots were constructed. The first tenant of the industrial area was the National Organization of Fishery Producers that built a freezer unit for storage of fish products there.
At the moment the Administration of the Freeport of Ventspils has found another tenant for the rather remote territory by signing agreement for acquisition of construction rights with SIA "Aquatoria V". The Company wishes to construct in Ventspils a production and processing plant for compound biofeed designed specifically for salmonid fish. The perspective plant will mainly use soy and soy concentrate for production of fish feed, allowing substitution of fishmeal with vegetable protein. Such product is also significant from the environmental perspective, since it reduces the exploitation of the global ocean and Baltic Sea fish resources for the purpose of fishmeal production. Initially the company plans to produce 50 000 tons of produce annually, but with full production capacity – 100 000 tons annually. Most of the produce will be exported. 50 new jobs will be created in the new production plant.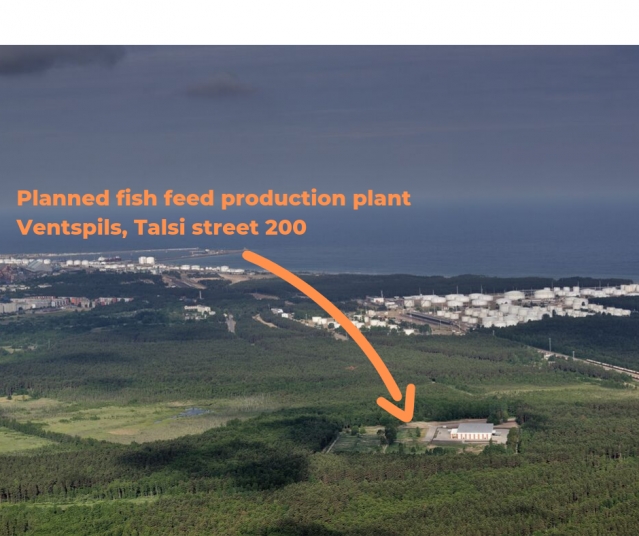 Since 2002 when the municipality of Ventspils and the Freeport of Ventspils began purposeful implementation of industrialization plan of Ventspils, more than 20 industrial enterprises have been contracted for work in the Freeport of Ventspils, which have created more than 1700 new jobs all together. Currently Ventspils has the highest processing industry performance ratings in Latvia, which allows it to occupy solid place among the industrial centres of the region.