Hydro-structure engineer Boriss Lobkovs is a legendary man who has been working in Ventspils port for more than 40 years. He knows nearly everything about every hydro-technical and other structures that have been built in Ventspils Freeport during the last half of a century.
He does not worry about the breakwater
Boriss Lobkovs knows every corner of Ventspils Freeport hydro-technical structures. During the reconstruction works of the Southern Breakwater of Ventspils, he repeatedly contacted the Head of Technical Department Māris Petrovskis and the Project Manager of general contractor JSC BMGS Andrejs Harčenkovs to ask how the construction work is going and to share his opinion on progress. Besides, the veteran of the construction and reconstruction of hydro-structures, does not do so for selfish purposes, it is merely his professional interest and concern for a safe operation of portā€™s hydro-structures.
Long before the reconstruction of the southern breakwater, he expressed his concern many times, knowing and understanding that the enclosing hydro-structures, being utilized for a long time, have partly lost their technical parameters and required renovation. Now Mr Lobkovs is no longer worried about the condition of the Southern Breakwater. And now he is preparing for the renovation of the Northern Breakwater. In his apartment, on his working table, he has a plan of Ventspils port hydro-technical structures, showing the date ā€œApril 1988ā€. ā€œThe Northern Nreakwater is more complex than the Southern Breakwater, all of the engineering networks, along with the pressure pipelines of two-row and three-row scaffold bridge, must remain maintained during the reconstruction works,ā€ one can sense concerns in his voice.
Sharing his experience
In every question on the operation of the hydro-structures, Boriss Lobkovs shows undoubted professionalism, enviable sharp mind and judgement for his age. ā€œI, like many other inhabitants of the city, know that a reconstruction of the Northern Breakwater is planned in the near future. This announcement was a very pleasant news for me. The load on the vehicle axle often exceeds ten tonnes. For several years, the major repair of the bearing constructions was carried out to renew load carrying capacity. The last examination of the scaffold bridge contracture was carried out in 2006 if I am not mistaken. I know that there are speed limits for vehicles but it does not mean that no problems can occur,ā€ the engineer explains his view on the upcoming reconstruction works of Northern Breakwater.
Boriss Lobkovs is a co-author of Technical Operation Rules of Port Facility and Aquatorium. These regulations were issued by USSR Ministry of Maritime Affairs in the year 1978. In the archive of Ventspils Commercial Port, an entry made by Boriss Lobkovs can still be found Experience of Technical Operation of Venstpils Port facilities. This entry is a description of characterization, parameters, construction projects their due dates and maintenance specification of every hydro-structure built during that time in Ventspils port. Boriss Lobkovs has been retired for a long time but he still cares for his cherished port, gives valuable advice during the reconstruction of hydro-structures, and not only in relation to structures that were built in his time but also with those built much later. His rich experience and legacy still serve Ventspils port.
Coming from the generation born during the war
Boriss Lobkovs was born nearly 87 years ago in Russia, Sychyovka a town in Sychyovky District of Smolensk Oblast. There he spent his childhood. Boriss Lobkovsā€™ father was a trained professional serviceman and as a chief of staff fought in the First World War. Later he retrained to be an agronomist. Boriss Lobkovsā€™ mother was a housewife. There were three children in the family, Boriss was the youngest and he had two older sisters. When the Second World War began, the Lobkovs family was in occupied territory. In 1942, Germans deported mother with all three children to Germany, near DĆ¼sseldorf, to a concentration camp near Oberhausen. However, the family was miraculously released from the concentration camp. How and Why? Boriss Lobkovs still does not know, and his mother has taken the mystery with her in the grave. The family returned to its ruined house. His mother got sick and died from typhus during the German occupation. His father was arrested by the Soviet authorities. Boriss does not know the reason but, most likely, it happened because his father served in the Imperial Russian Army. Boriss Lobkovs was not destined to meet his father ever again. In 1954, his father was exonerated of all charges against him. However, Boriss Lobkovs had to live for a long time with a reputation of an enemy of the peopleā€™s son.
Children lost their parents but the older sister did not send the younger siblings to an orphanage. Relatives were scared to help the children of ā€œenemy of the peopleā€ so they grew up together by themselves. Boriss was working and studying at evening school. His legs were injured at work by frostbite, so he was sent to Yevpatoria for treatments. There he saw the sea for the first time and fell in love with it, so he decided ā€" I will work and live by the sea, no matter what! When Boriss graduated, the grown-up children sold their parentsā€™ house. Both sisters moved to Leningrad where on sister joined the Mountain Institute and the other ā€" medical, while Boriss went to Odessa to study in the Institute of Water Transport Engineers, Faculty of Water-Transport and Shelf Constructions. After gaining the qualification of engineer hydro-technician, Boriss Lobkovs was assigned to go to the Far East. In a train wagon, during a ten-day long journey to his new workplace, Boriss met his future wife, Anna. They have been together for 61 years!
From the Far East to Baltics
For nearly two years, Boriss worked in a trust Dalmorstroy but then he was invited to work in the Technical Department of the Port of Nakhodka. Since then, he began engaging with the technical exploitation of hydro-technical and other port structures. In 1966, Boriss Lobkovs was transferred to Liepājaā€™s port. However, when the port was closed and given to the army, the engineer was asked to work in Ventspils Sea Trade Port (former name of Ventspils Freeport) as a chief engineer of the Technical Department. Later, Boriss Lobkovs began to run portā€™s technical service and he had to take care of significantly large territory. Boriss Lobkovs recalls with pride that Ventspils port was the number one port for multiple times in port competitions throughout the Soviet Union.
At the time, Ventspils Sea Trade Port had a very large holding, alongside the usual cargo areas, it included the port fleet, the repair and construction station, apartment community facilities, a central mechanical workshop, motor depot leisure facilities and childrenā€™s summer camp. Port was responsible also for outskirt civilian defence headquarters, in which external training was held, which typically ended with participants joining in common rest and leisure activities. There were 2500 employees working in all of the compartments of Ventspils port together! ā€œWhen I was in charge of the Technical Department, a fair amount of money from various funding sources was available for all of the maintenance of portā€™s holding ā€" 4-4.5 million roubles per yearā€ Boriss Lobkovs lingers in memories.
The main concern of the technical serviceā€™s chief was regarding the renovation and construction of port facilities. It often required not only knowledge but also cleverness and a sense of humour. ā€œThe money for capital investments were granted only for the hydro-technical part of the wharves. Other needs, like engineering networks, development of the territory, maintenance of warehouses, railroad underneath port structures, electric cables were financed at the expense of major repair works,ā€ Boriss recalls.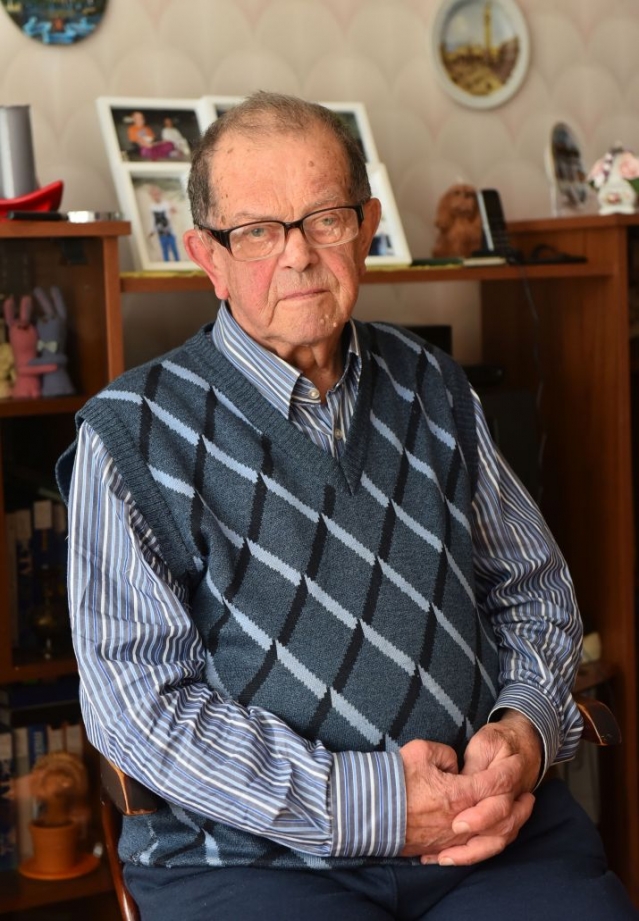 Engineer hydro-technician ā€" it is for a lifetime! Boriss Lobkovs, even today, is aware of all the events concerning the technical operation and renovation of hydro-structures in Ventspils port.
The construction of the third oil pier.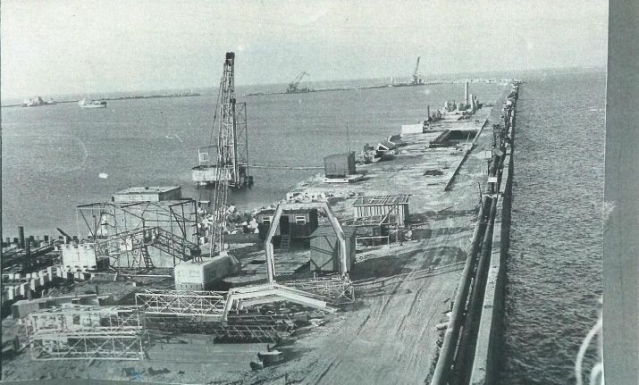 And the construction of the 34th oil pier at the northern breakwater in the year 1947. All of these as well as many other construction works of that time were monitored by Boriss Lobkovs, the Head of the Technical Department of Ventspils Maritime Trade Port.